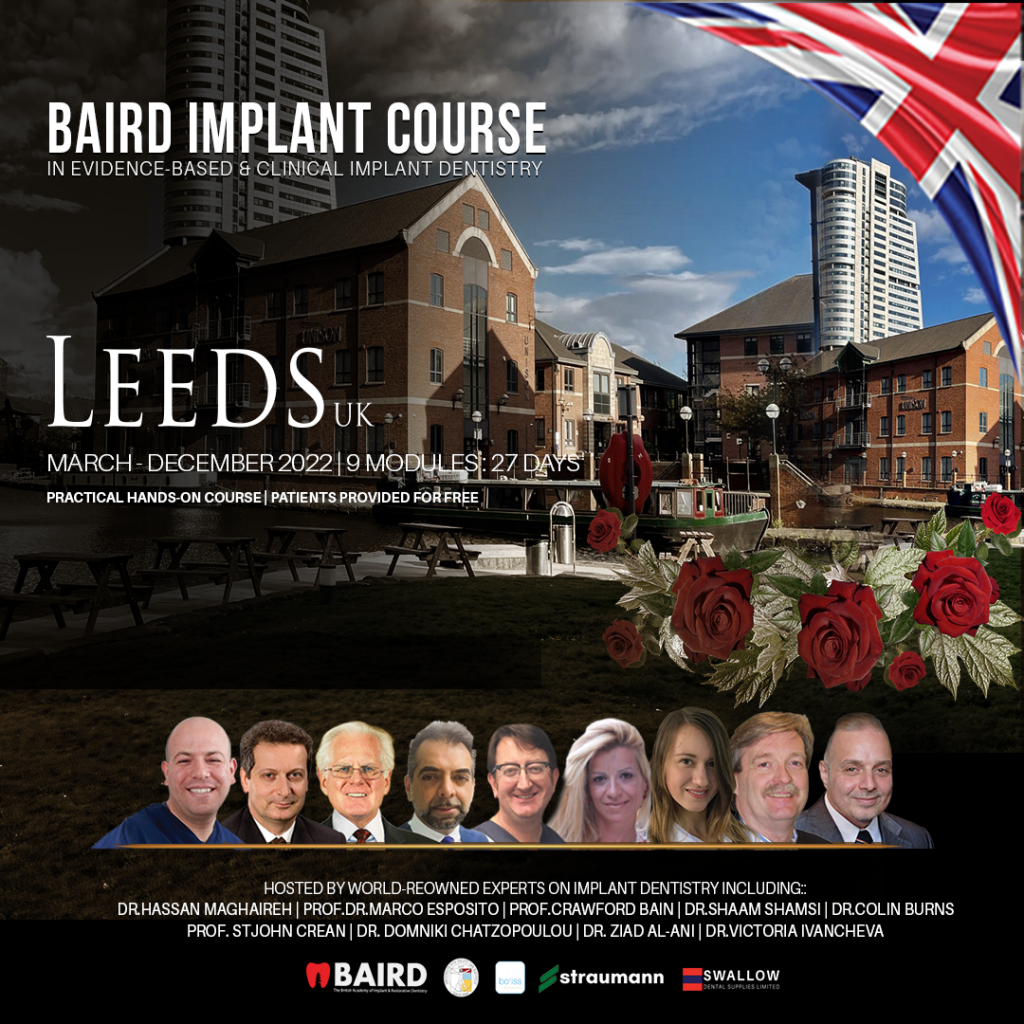 March – December 2022 Course in Evidence Based & Clinical Implant Dentistry
Accredited towards part of the MSc in Implant Dentistry – College of Medicine & Dentistry – Ulster University – Birmingham
Course Info: The BAIRD Evidence Based & Clinical Course in Implant Dentistry, is one of the most successful private courses in implant dentistry in The United Kingdom where participants receive sound grounding knowledge in implant dentistry as well as practical training on patients provided by the course under direct mentoring at no extra cost . We are running the course for the 15th year with wonderful feedback from past graduates who are already placing and restoring implants with great confidence at their own dental practices.
March – December 2022
Three weekdays a months ( Monday – Tuesday – Wednesday)
and hosts a group of world-renowned experts on implant dentistry including:
Dr Hassan Maghaireh – Head of Scientific Committee – BAIRD Academy and Associate Professor in Implants & Oral Surgery , College of Medicine & Dentistry University , Birmingham
Prof Marco Esposito – Editor in Chief of The Clinical Trials in Dentistry Journal
Dr Colin Burns , ITI Chairman, The UK & Ireland Section
Prof StJohn Crean – Maxillofacial Consultant, Vice chancellor at University of Central Lancashire (UCLan)
Prof Crawford Bain, Specialist Certificates in Periodontics and Fixed Prosthodontics and formally Senior Lecturer and coordinator of MSc in Dental Primary Care, University of Glasgow.
Dr Ziad Al-Ani – Senior Lecturer – School of Medicine, Dentistry and Nursing at University of Glasgow
Dr Domniki Chatzopoulou– Periodontal Specialist – School of Medicine and Dentistry – Queen Marry University of London
Dr Shaam Shamsi – Medicolegal adviser and dentist with special interest in implant dentistry.
Dr Victoria Ivancheva – Member of The Scientific Committee – BAIRD Academy

Course Venue : The course is taught at the purpose-built learning facility in Leeds with easy access form motorway and with secure free of charge parking , a
Address: BAIRD ACADEMY , Unit B, Global Avenue, Global Office Park, Leeds, LS11 8PR
What is unique about this course:
One of the most comprehensive implant courses in the UK: 27 days over 9 modules.
The BAIRD Evidence Based & Clinical Implant Course is a comprehensive training course, covering from basic to advanced clinical (surgical and restorative) skills in implant dentistry. This will allow you to manage placing and restoring dental implants in the aesthetic zone as well as in the posterior area with great confidence.
This course is is designed to promote clinical excellence in implant dentistry through evidence based education. Course delegates will have the opportunity to learn from world renowned lecturers and clinical mentors , attend more than 12 hands-on surgical and prosthetic workshops as well as live surgeries followed by brain storming and reflection.
This course is unique as it is one of the very few courses which provide delegates with implant patients to be treated during the course modules under direct supervision at no extra cost. Course participants will deliver the entire treatment process from assessment and planning through to implant placement and taking impressions and fitting the final restorations .
This course is ideal for clinicians with varying clinical backgrounds – regardless of their restorative or surgical experience, and will offer all graduates the confidence in placing implants at their own practices with the support of the exclusive mentoring scheme by BAIRD mentors.
This course can be accredited toward the first year of the popular MSc program in Implant Dentistry – College of Medicine & Dentistry – Ulster University – Birmingham.MSc delegates will be placing and restoring more than 10 implants during their 2nd year of MSc at the University clinic under the direct supervision of Ass. Prof Dr Hassan Maghaireh, the clinical director of the Implant MSc program – Ulster University
Common Qs & As: 1- What is the cost of the course?
£10500 plus vat Early bird discount £9500 plus VAT for early registration . For more info please contact Dr Maghaireh on 07779137712 or Dr Ivancheva 07925212788. Terms and conditions apply.
2- What is the length and content of the course and what are the dates?
The course is comprised of 9 modules:*
Module 1: ( 14-15-16th March 2022) Introduction into Implant Dentistry , Success Criteria, Pink aesthetics & Treatment Planning. 
Module 2: : (4-5-6th April 2022) Cone Beam CT Scan Training, Surgical Planning for Implant Cases & Surgical Principles in Implant Dentistry.
Module 3: (16-17-18th May 2022) Risk Analysis, Medical Problems in Dentistry, Periodontal Management, Bone Healing Principles & Patients Selection in Implant Dentistry.  
Module 4: (12-13-14th June 2022) Bone and Soft Tissue Grafting Principles in Implant Dentistry & Medico-legal Considerations.  
Module 5: (16-17-18-19th July 2022 ) Live Implant Surgery, Cases Planning & Clinical Training on Course Patients.
Module 6: : (5-6-7th September 2022) Prosthetic Principles in Implant Dentistry&  Updates in Evidence Based Practice in Implant Dentistry.
Module 7: (3-4-5th October 2022 ) Advanced  Prosthetic principles in implant dentistry & Occlusion in Implant Dentistry 
Module 8: (31st October- 1-2nd November 2022) Digital Workflow in Implant Dentistry, Prosthetic Soft Tissue Sculpture and Fitting Final Restorations for Course Implant Patients.
Module 9: (5-6-7th December 2022) (TBC) Course Revision & Exam module
*While every effort will be given to fix the modules dates, the course organisers might on the off chance, change the module(s) dates on a short notice, in case of lecturers canceling due to private circumstances or other administrative reasons. You will be informed in advance. Once the course starts, on the off chance if a module is cancelled then you will not receive a refund, if this occurs then the module will be rescheduled. No interest or compensation will be paid. The course organisers cannot accept responsibility for any costs incurred outside those submitted as fees for the course, including but not limited to hotel reservations, travel tickets, days lost from work or equipment purchased for the purpose of the course.
3- How many patients will each candidate get to do during the course?
Each participant will be allocated his/her own patient(s) to follow from A to Z through out the course. Each participant gets to plan, place and restore minimal of two implants (in one or two patients) in addition to assisting in another two patients and observe more than 10 patients during the 9 modules in Leeds. We have an optional module in Athens when each participant place a minimal of another 5 implants and assist and observe more than 12 implants during this three day residential module.This module is offered at extra cost of £3500 including accommodation.We also provide an exclusive integrated mentoring scheme all over the UK when the course participants will have the chance to place implants for their own patients at their practices under the support of BAIRD mentors at a discounted price.
4- Are the practical cases in UK or do we have to go to Athens to do the practicals?
The course clinical training will be carried out on patients provided by the course in The UK and during the course days at no extra charge. Athens module is available as an optional module for those who would like to boost their clinical experience & confidence as each participant will be placing minimal of 5 implants under direct supervision and get involved in the planning and assisting in more than 12 implants. Alternatively, some delegates prefer to invest in the nationwide mentoring scheme when BAIRD mentors offer you one to one support to place implants at your own practice at a discounted fee.
5- What implant system we will be using during the course?
While this is an evidence based course aimed to teaching basic and advanced princes in implant dentistry during the theory seminars and hands on workshops, the clinical training on patients in The UK will be carried out using the world-renowned implant system; Straumann Dental Implants and Botiss Bine Regeneration material. Both bone level and tissue level implants will be provided and training will be offered on various types of bone biomaterials.
6-What other skills I will learn during this multi-modullar course?I
n addition to learning basic clinical surgical and restorative skills in implant dentistry, course participants will also be trained to manage advanced implant cases such as dental implants in the aesthetic zone which requires guided bone regeneration, soft tissue grafting and prosthetic soft tissue sculpture. Furthermore our BAIRD implant course participants will have the opportunity to learn and develop many other skills needed to run a successful private dental practice aimed to help our delegates to sit up and pursue a successful implant career . These skills include dental photography, ethical marketing and implant promotion ,minor oral surgery principles, dental occlusion, periodontics, reading and analysing Cone Beam CT scans and radiographs and oral and virtual presentation skills
7-Will I need to buy books or find external sources for revising during the course?
All study materials will be provided as part of the course. Each participant will receive pre-module reading material as well as the reading material of the lectures and some highly recommended up to date articles to read from. There will be no need for you to buy or look for any external sources.
8-What assessment or exams will be offered during the course?
In order to meet the GDC regulations for practicing implant dentistry in The UK, there will be modular quizzes at the beginning of each module covering the material of the module before , in addition to the Final be formative theory assessment which will be comprised of a theory exam and cases presentation with cases discussion viva exam as part of the final module.
9-Do we get a qualification eg (Pg cert ) at the end of the course or is it only a CPD certificate?
Successful graduates will be awarded BAIRD Post Graduate Certificate in evidence based and clinical implant dentistry with 200 verifiable CPD hours.
10-Can I accredit my BAIRD certificate towards postgraduate Diploma or University MSC?
BAIRD graduates are highly encouraged to accred their BAIRD course towards The University Postgraduate Diploma from San Raffaelle University in Milan by attending bridging the gap course in Milan. This course is of 4 intensive days followed by an exam. The course fees for the last year was 4500 Euros but more info will be provided from San Rafael University. Alternatively, BAIRD graduates can accredit their BAIRD course towards the first year of the MSc in implant Dentistry at The College of Medicine & Dentistry – Ulster University by attending an assessment module costing £1500 , after which BAIRD graduates can join the MSc at the 2nd year which is mainly a part time clinical training year and will award you a University Postgraduate Diploma in Implant Dentistry. Delegates who progress to the 3rd year and complete their thesis will be awarded MSc in Implant Dentistry from The College of Medicine & Dentistry University in Birmingham.
For any further course enquiries please feel free to contact the course director; Dr Maghaireh at his mobile 07779137712 or course moderator Dr Victoria Ivancheva at 07925212788 or email at educationbaird@gmail.com